There is no one most effective monitor, different monitors have their pros and cons and its totally up to you to decide what are the features that matters the most to you.
You can look for color schemes, size, etc.
You should go for whatever you find necessary for your gaming experience.
I have made a checlist to help me select the best option which i'm sharing here
1. Resolution and Image Quality
2. Size of the Monitor
3. Portability
4. Input/Output
5. Price
and i'm also some of my top picks,
28" 4K UHD (3840×2160) with 60Hz refresh rate and 1ms (GTG) response time Plus Adaptive Sync/AMD Free Sync for immersive, crisp visuals
Asus Eye Care technology with TÜV Rhineland-certified flicker-free technology and blue light filter minimizes eye
Ergonomically designed with tilt/pivot/swivel/Height adjustments for more gaming comfort
Exclusive game plus and GameVisual settings enhance color performance and control. Phys. Dimension with Stand (WxHxD) – 660.4 x 672.5 x 226.3 mm . Phys. Dimension without Stand (WxHxD) – 660.4 x 380.8 x 62.2 mm. Brightness(Max) – 300 cd/㎡
Connectivity featuring DisplayPort and dual HDMI
5-Way OSD joystick delivers intuitive monitor controls So you can access Features such as Asus game plus on-the-fly
Pros
It has great value for what it is worth.
The stand can be adjusted to suit the user's position or posture.
It has very low to no lag input.
Cons
The contrast of colors though decent is not that great.
L2870U brings HDR together with Brightness Intelligence Plus Technology (B. I. + Tech. ) to gently soften bright areas while keeping dark details crystal clear. EL2870U's simple hotkey switches between 4 levels of HDR and B. I. + modes to balance maximum contrast and vibrancy and fully enjoy the splendid image performance of HDR while maintaining your viewing comfort. The image has a faulty coloration – Go to Picture and Reset Color, and then choose YES to reset the color settings to the factory defaults. If the image is still not correct and the OSD also has faulty coloration, this means one of the three primary colors is missing in the signal input. Now check the signal cable connectors.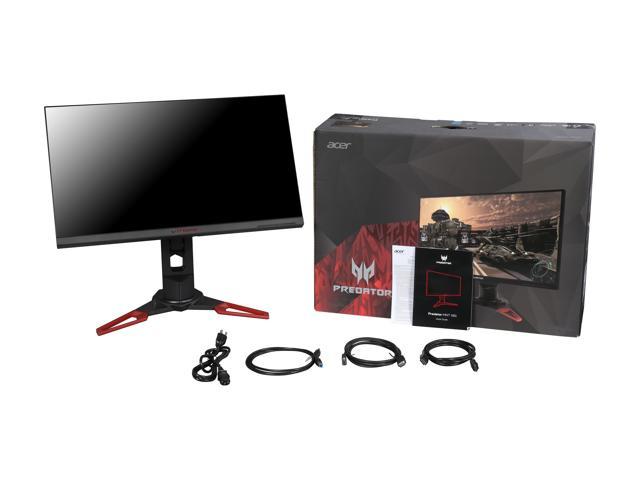 If any pin is bent or broken off, please contact your dealer to get necessary support. The image is distorted, flashes or flickers- Read the instructions on the link "Adjusting the Screen Resolution" on the CD, and then select the correct resolution, refresh rate and make adjustments based on these instructions. The image is blurred- read the instructions on the link "Adjusting the Screen Resolution "on the CD, and then select the correct resolution, refresh rate and make adjustments based on these instructions. If a VGA extension cable is used, remove the extension cable for the test. Is the image now in focus? If not, optimize the image by working through the instructions in the "Adjusting the refresh rate" section on the link "Adjusting the Screen Resolution". It is normal for blurring to occur due to conduction losses in extension cables. You can minimize these losses by using an extension cable with better conduction quality or with a built-in booster.
Pros
This monitor is quite affordable and perfect for a gamer on a budget.
Its screen resolution is very high.
It has a decreased lag input.
Cons
It has decreased response times.
The inbuilt speakers cannot be described as loud – you might need external speakers if you love loud sounds while gaming.
there are also some other monitors you can look for,
TCL 55-Inch Series 5
TCL AUTHORIZED DEALER – Includes Full TCL USA WARRANTY
TCL 55R625 55-inch 6-Series 4K UHD HDR Roku Smart TV (2019 Model)
Wide Color powered by Quantum Dot technology
INCLUDED IN THE BOX: TCL 55R625 TV | Warranty Info | Quick Start Guide | Detachable Power Cord | RC580 Remote Control | Analog Audio/Video Input Adapter | 2 "AAA" Remote Control Battery
BUNDLE INCLUDES: TCL 55R625 55-inch 6-Series 4K UHD HDR Roku Smart TV (2019 Model) | Vivitar 37-70-inch Low Profile Wall Mount Kit – Includes 2 HDMI Cables and Screen Cleaning Kit | Deco Gear 2.4GHz Wireless Backlit Keyboard Smart Remote with Touchpad Mouse | SurgePro 6 NT 750 Joule 6-Outlet Surge Adapter with Night Light
If you're looking for a 55-inch 4K TV at an affordable price, then the TCL five Series is your excellent alternative overall. With solid photograph first-class, a screen size appropriate for most rooms, and integrated aid for Roku's easy and convenient clever TV system, this show hits the proper candy spot between features and cost. The TCL 5 Series 2019 S525 4K HDR TV on the whole doesn't get exceptional, but it's miles one very strong price range TV for the fee it has, and for the generally respectable to correct overall performance it offers
This mid-range TCL tv delivers first-rate gaming performance, extraordinary response time for clean content material motion and delivers really sturdy overall image high-quality in both a darkish room and a properly-lit space because of its respectable brightness and first-rate assessment ratio. Its shade performance is likewise suitable, which makes the S525's HDR best exceptionally vibrant. Most 4K UHD TVs sold in recent times upscale content virtually well even supposing it's native formatting is in 1080p, 720p or maybe 480p resolutions. The 5 Series TV is not any exception. As long as a given piece of content is nicely-mastered, it must well render it. This applies especially to content assets which include DVDs, streaming media and Blu-ray disc movies.
Unlike its cousin the S425, the 5 Series delivers fairly appropriate black uniformity. This TV's assessment ratio and black levels also are each, in reality, strong, allowing for robust HDR enhancements and typically exact photograph performance in which color rendering looks greater vibrant. The TV is also flawlessly usable even in shiny spaces due to its black rendering overall performance.
Pros
surprising color volume
Cheap price
black level and contrast performance is great
Wonderful gaming performance
Surprisingly good native audio
4K HDR10 and Dolby Vision support
Robust color delivery
Excellent content upscaling for all video sources
FIND OUT NOW HOW YOU CAN TAKE POSSESSION OF THIS POWERFUL GAMING MONITOR NOW, CLICK HERE
SOME OTHER GREAT GAMING MONITORS
Alienware 25 Gaming Monitor – AW2518Hf, Full HD @ Native 240 Hz, 16: 9, 1ms response time, DP, HDMI 2.0A, USB 3.0, AMD Freesync, Tilt, Swivel, Height-Adjustable
Designed for the enthusiast, the AW2518HF delivers a futuristic style and precise form with solid stability
Lightning-fast 240Hz native refresh rate combined with 1ms response time delivers buttery-smooth gameplay with virtually no input lag
Compatibility- All Operating System. AMD Free Sync eliminates choppy gameplay and broken frames with fluid, artifact-free performance at virtually any framerate
Specific gaming OSD (onscreen display) design keeps your user experience in the gaming theme. Brightness : 400 nits. Voltage Required AC 120/230 V (50/60 Hertz)
Game comfortably in your zone with a height adjustable stand, tilt, swivel and pivot features. Refer to the PDF attached below in Technical Specification for Installation manual
Acer Nitro XF252Q Xbmiiprzx 24.5″ Full HD (1920 x 1080) TN Gaming Monitor with AMD Radeon FreeSync Technology, 240Hz, Up to 0.3ms Response Time, HDR Ready (2-HDMI & 1-DP & 4-USB 3.0 Ports), Black
24. 5″ Full HD (1920 x 1080) widescreen TN monitor with AMD Radeon free Sync technology
Response time: up to 0. 3ms (g to G)
Refresh Rate: 240Hz
Zero frame Design | HDR Ready | 2 speakers at 2 watts per speaker
Ports: 1 x Display Port, 2 x HDMI 2. 0 & 4 x USB 3. 0 Ports (HDMI & USB cable included)
The Gate of Smooth Gaming
In competitive gaming, every frame matters. Introducing Acer's XF252 gaming monitor – the Full HD (1920 x 1080) resolution monitor that can keep up with your game play. Through AMD Radeon technology, the game's frame rate is determined by your graphics card, not the fixed refresh rate of the monitor, giving you a serious competitive edge. Plus, users can enjoy comfortable viewing experience while gaming via flicker-less, low dimming and ComfyView display.
24″ Full HD (1920 x 1080) Widescreen TN Monitor
AMD Radeon FreeSync Technology
Response Time: Up to 0.3ms (G to G)
Refresh Rate: 240Hz
Zero Frame Design
HDR Ready
2 Speakers at 2 Watts per Speaker
Ports: 1 x Display Port, 2 x HDMI 2.0 & 4 x USB 3.0 Ports (HDMI & USB Cable Included)
Features
| | | |
| --- | --- | --- |
| Quality VisualsThe XF252Q 24.5″ monitor with 1920 x 1080 Full HD resolution in a 16:9 aspect ratio presents stunning, high quality images with excellent detail. The zero-frame design does away with the thick frames found on conventional monitors freeing up precious screen space so you have more to look at from edge to edge. | AMD RADEON FREESYNC TechnologySay "goodbye" to stuttering and tearing. With AMD RADEON FREESYNC, the monitor's frames are synced with the graphics card's frames, which eliminates screen tearing and provide the smoothest gaming experience. | Rapid Refresh RateThe 240Hz refresh rate speeds up the frames per second to deliver an ultra-smooth 2D motion scenes. With a rapid refresh rate of 240Hz, Acer Monitors shorten the time it takes for frame rendering, lower input lag and provide gamers an excellent in-game experience. |
Features
| | | |
| --- | --- | --- |
| HDR ReadyHDR Ready is display technology that creates deeper levels of black and white contrast, giving you a greater level immersion through realistic image recreation. The XF252Q display pulls you in to the lifelike contrast and color of HDR. | Responsive!!Up to 0.3ms GTG (Gray to Gray) response time enhanced gamers' in-game experience. No matter the fast-moving action or any dramatic transitions will be all rendered smoothly without the annoying effects of smearing or ghosting with Nitro XF252Q Gaming Monitor. | Game View TechnologyAcer Game Mode has eight pre-set display modes to optimize the visuals for different types of content: Action, Racing, Sport, User, Standard, ECO, Graphic and Movie. This unique feature can be easily accessed through a hotkey or the On Screen Display (OSD) settings menu. |
AOC Agon AG352UCG6 35″ Curved Gaming Monitor, 1800R, Uwqhd 3440×1440 VA Panel, G-Sync, 120Hz, 4ms, DisplayPort/HDMI
35″ Agon Professional grade gaming monitor with 1800R curvature for immersive gaming experience
3440 x 1440 Ultra wide Quad HD resolution with VA panel (cinematic 21: 9 ratio), 85% NTSC color gamut for high Color accuracy
Nvidia G-SYNC for smoothest competitive gameplay with 120Hz refresh rate and 4ms GTG response time
Displayport 1. 2, HDMI 1. 4 inputs, 2 x USB 3. 0 hub w/ 1 fast-charging port
Low input lag and shadow control allows you to see and react faster
Ergo dial height adjustable stand with pivot, tilt, rotate for ultimate comfort. Built-in speakers, headphone hanger, and Handle for convenience
Agon re-spawned Warranty: 4-year zero deal Pixel guarantee + 4-year advance replacement + 1 Year (one-time) accidental damage Warranty
Key Features
3440×1440 WQHD resolution
1800R curved AMVA panel for immersive gaming
120Hz refresh rate
4ms response time (GtG)
20M:1 contrast ratio
NVIDIA G-SYNC Technology to reduce screen tearing
Ergo Dial height adjustable stand
AOC Shadow Control, LowBlue Mode, and FlickerFree
AOC Gaming Monitor – AGON AG352UCG6
| | | |
| --- | --- | --- |
| Immersive ExperienceThe AG352UCG6 features a curved MVA panel with vibrant colors for a more exciting and immersive visual experience to be enjoyed while gaming. Our eyes are curved, and have a limited field of view. The AG352UCG6's curvatures of 1800R conforms to the way we see and helps reduce eye fatigue while putting you in the center of the action. AGON curved monitors are perfect for RPG or simulation games that partially surrounds you in the environment, allowing for an immersive gaming experience. | G-SYNC by NVIDIA and 120Hz Refresh Rate120Hz brings unprecedented fluidity to the rapid movements on your screen. Watch the most frenetic action unfold and flow across the display, feel your reactions blend seamlessly into in-game action, and just forget about motion blur and screen tearing – they're history now. Paired with NVIDIA G-SYNC that synchronizes the display's refresh rates to the GPU in your GeForce GTX-powered PC, AG352UCG6 eliminates screen tearing and minimizes display stutter and input lag. What you get is fluid and responsive gameplay, with objects looking sharper, scenes appearing instantly and more vibrant in visual quality than on any other monitors, so you can enjoy the latest games to the fullest. AGON with NVIDIA G-SYNC delivers the smoothest and fastest gaming experience with a serious competitive edge. | 4ms GTG Response TimeA response time of 4ms Grey-to-Grey (GTG) means pixels respond with speed without the smear for an enhanced gaming experience. Fast-moving action and dramatic transitions will be rendered smoothly without the annoying effects of ghosting, a must have for serious first person shooter games. Choose the right path to success; do not let a slow display stop you. |
| | | |
| --- | --- | --- |
| Fully Adjustable StandThe AG352UCG6's fully adjustable stand allows convenient adjustment of the screen's height and angle. Match the screen's position to your chair position, height, and line of sight for a comfortable playing experience. The stand also comes with a handle built-in, ready to be taken to any battleground of your choosing. | AOC Shadow ControlIt is important to have the best visibility especially for the dark areas on screen when gaming. With AOC's Shadow Control, gamers can dial-in shadow levels in the On-Screen Display menu to increase contrast for better dark areas without affecting the rest of the screen or the response time. AG352UCG6 offers three levels to adjust the dark portions. Bring the battle out of the shadows with AOC Shadow Control! | Scene Light, Retractable Headset HolderReady to wow the onlooker, the adjustable lighting effects on the back panel can be changed to red, green, or blue, to suit the mood of play, or match team colors at gaming events. The built-in retractable headset holder also makes sure your precious gaming headset has a home and to keep it all organized. The built-in USB 3.0 hub also ensures your peripherals are kept out of the way along with its ease of cable management. |
MORE GAMING MONITORS FROM NEWEGG